Paloma - Black/White
Women's Winter Golf Shoes
Paloma is a classic women's winter golf shoe with rich embossed patterns and neoprene detailing.
Width: Medium
Waterproof: Yes

Material: Full-Grain Leather. High-Quality Polyester Fur Lining.

Insole: Removable ARNEFLEX® insole. Comfortable and breathable memory foam insert sole with recycled cork.

Outsole:

Airplay 6
Color: Black / White

Laces: Black polyester laces

Fit: Fits true to size
Free delivery on orders over $150
Shipping within one business day
Paloma

Paloma is a classic women's winter golf boot with rich embossed patterns and neoprene detailing. It is made with a soft, full-grain leather upper and has a waterproof bootie system with a breathable membrane to keep your feet dry. The warm, fluffy teddy bear lining of the Paloma makes sure that your feet stay nice and warm in the winter, while you are on the golf course. The boot is fitted with an ergonomic, comfortable and removable soft PU insole. The Paloma has the Airplay VI outsole, the fashionable outsole that looks and walks like a sneaker but with functional golf nubs for extra grip when you play.
The Paloma Technology

The Airplay VI outsole, Duca's spikeless innovation, ensures maximum functionality on and off the golf course. The 5mm cone-shaped studs run all over the bottom for optimal stability and grip during swing. Despite its low weight, this sole offers exceptional cushioning. The forefoot is extra protected thanks to the built-in front bumper. The raised heel improves your posture and prevents foot fatigue.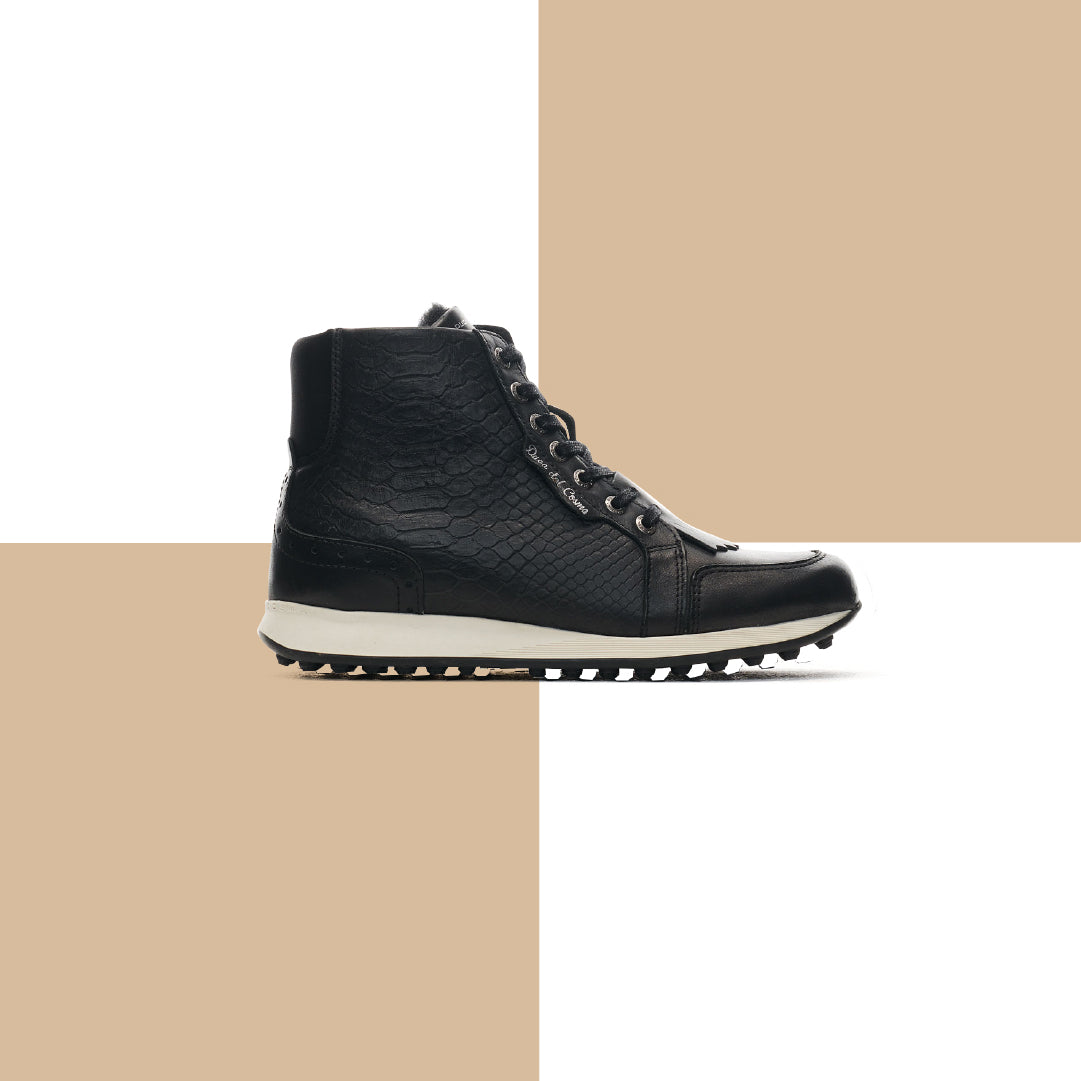 Italian Design
Baldovino Mattiazzo's passionate innovations bring much-needed sophistication and authenticity to the traditional golf world.
Handcrafted in Europe
Superior craftsmanship combines with cutting-edge technology for the next generation of golfers and wherever else life takes them.
on and off the course
Get the best of both worlds with stylish performance golf shoes you can wear on and off the course.